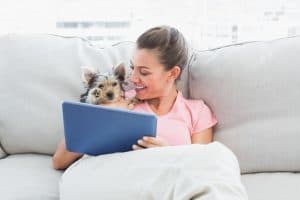 At Edmonton West Animal Hospital, we know that you want to take the best care of your pet. So you are aware of what to expect when you see our veterinarian, we have put together helpful information on payment options. We highly encourage you to review this information before you bring your pet in for veterinary services. This way, you know what to expect and you can plan ahead.
Payment Options
Payment is preferred when services are rendered. The veterinarian/RVT responsible for your pet will discuss all recommended diagnostics and treatments and will review with you an estimate for your pet's care. This estimate will cover a range because certain elements of your pets stay may vary, such as the treatment and length of hospitalization. We may require an initial payment deposit for surgeries and hospitalizations at the time your pet is admitted to the hospital. The remainder of the balance will be due at the time of discharge. In order to focus on our patients' needs, client service, and minimizing costs, we do not extend credit. Thank you in advance for understanding and being prepared.
We accept debit cards, Visa, Master Card, American Express, E-Transfer and cash. We do not accept personal cheques.

All cards must be signed by the owner of the card. In the absence of credit card holder or for payment over the phone using your credit card, credit card holder needs to fill out the 
Credit Card Payment/Refund Phone Authorization Form.
We provide estimates for all surgeries and hospitalizations. If you have not received an estimate, you are welcome to request one at any time for your expected charges.
Financial Assistance
When unexpected illness strikes a pet, unexpected expense strikes as well.  Edmonton West  Animal Hospital understands this and is able to make some special arrangements through partner financing companies.. Veterinary financing programs ensure that you don't delay the treatment your pet needs due to cost concerns by offering you a variety of financing terms with convenient monthly payments. This gives our clients the option to have their payments for unexpected vet visits, surgeries, dental cleanings, and advanced diagnostics spread out over a period of time instead of having to make one large payment all at once.
There are 2 financial assistance options available if you have exhausted all of your personal means for payment:
PetCard Program:  PetCard offers a simple way to finance the treatment or product your pet needs and it allows you to get it without delay. You can either apply at our hospital, or apply yourself online at home at: www.petcard.ca. PetCard allows applicants options for adding co-signers to the application. You may apply prior to visiting the Hospital.
Affirm Financing:  Affirm offers you another way to pay for the things that you need and want by providing a financing option that is transparent, flexible, and fair.  Applications can be made by scanning the QR code below and completing the preapproval process – just scan the code below to start. Once you have received pre approval please contact the clinic and we will send you the official application via text or email to complete your application.
Pet Insurance
Our veterinarians strongly recommend that pet owners have insurance for their animals. Pet insurance operates like medical insurance. You pay a monthly premium for your pet, and the insurer covers medical procedures. As with medical insurance, you are responsible for your co-pay at the time services are rendered.   It is best to purchase pet insurance when your pets are young. Otherwise, you risk a pet having a pre-existing condition that would not be covered.
Insurance plans can be as simple as providing emergency medical or surgical coverage, or as comprehensive as including annual wellness exams and vaccinations, dental prophylaxis and blood work.  There are many options available depending on what type of coverage you are looking for.
To learn more, please visit the following pet insurance websites: